Heya there! Still amazed with the huge feedback and support we are achieving with Relevo's Snowboarding! Thank you so much for believing!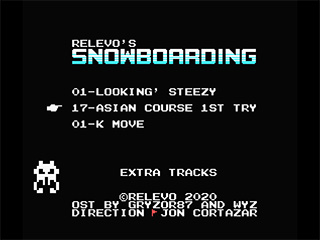 Today we are releasing a special treat for you retrogaming music lover: a new .rom file for your MSX or preferred emulator featuring a track jukebox in which you will be able to play every music from the game, along with discarded and alternative themes and every sfx. Now you have no excuse! Go listen to Relevo's Snowboarding music in the real hardware, grab the .rom file and enjoy this amazing set of tracks by excellent composers Gryzor87 and Wyz!
Again, thank you for your support. And if you want to stay up to date, do consider following us on twitter!
Files
Relevo's Snowboarding Jukebox - MSX .rom file
17 kB
Aug 10, 2020
Get Relevo's Snowboarding